Welcome to the fifth installment of our Croissant Critique series! Our team took a trip to Verzenay—not the town in north-east France, but Verzênay Pâtisserie in Lincoln Park! Pâtissière and owner Arshiya Farheen opened the bakery after studying French culinary arts in Paris, and thanks to her delicious skills, you can find the treats from Verzênay at the Green City Market, and in hotels, coffee shops, and about 15 Whole Foods stores. We just had to see what all the hype was about!
We rated each pastry based on six different factors: flakiness, flavor, butteriness, lamination (how shiny they are), presentation (how they look), and whether they're more traditional or innovative. Sound tasty? Allons-y !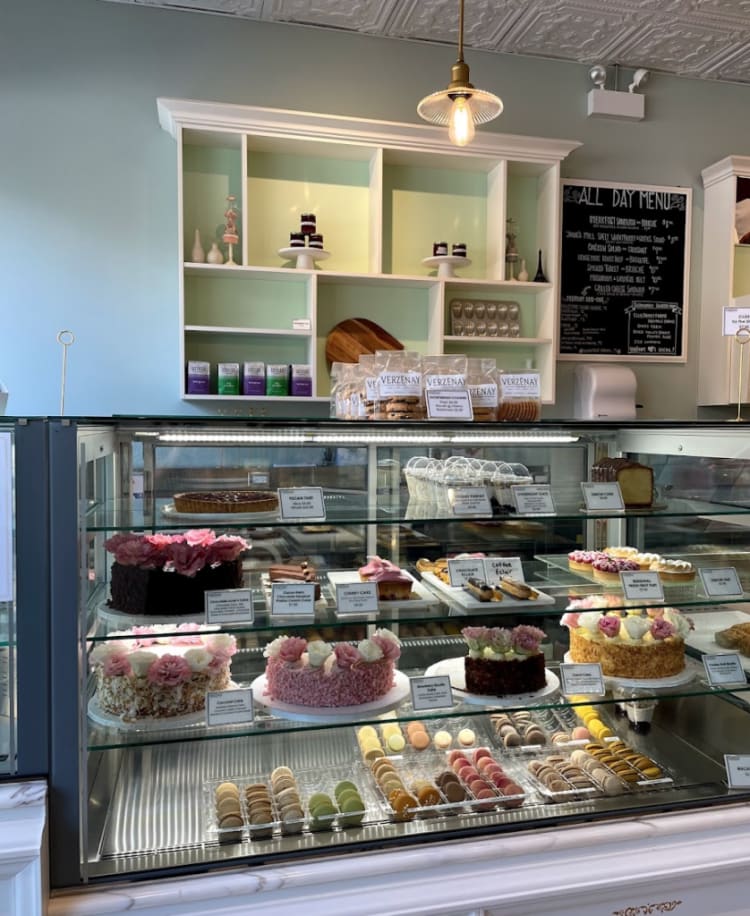 Read on to learn our thoughts on each croissant that we sampled!
Chocolate Croissant
How gorgeous is this pain au chocolat ?! It tasted just as great as it looked! The texture was fantastic – super flaky while preserving the butteriness that we need in a good croissant. It wasn't an overload of chocolate, but just enough to give a lovely mocha flavor throughout. What makes this croissant perfect for a sweet tooth is the unexpected caramelization on top! The sweetness on top makes it taste a bit like a dessert, but if you want dessert for breakfast, we'd never blame you! With a beautiful and sleek presentation, Verzênay's chocolate croissant is one of the best we've had in our 5 critiques!
Final Grade
Flakiness: 10/10
Flavor: 8/10
Butteriness: 8/10
Lamination: 10/10
Presentation: 10/10
Innovative vs. Traditional: traditional, with a modern presentation
Classic Croissant
If you don't have a sweet tooth, or want something a little more classic for your petit déjeuner, we recommend this fantastic plain croissant. We loved the texture: very buttery and moist on the inside, but with a satisfying flaky crunch on the outside. It's the perfect size for breakfast or a snack – not too big or too small – and with a beautiful golden color on top, this is truly a wonderful and authentic croissant!
Final Grade
Flakiness: 10/10
Flavor: 7/10
Butteriness: 9/10
Lamination: 8/10
Presentation: 8/10
Innovative vs. Traditional: traditional
Pecan Almond Croissant
Here, we started branching into the more innovative treats at Verzênay. This almond croissant brings in a deliciously complementary pecan flavor for those who love an extra nutty taste! The bites with the almond slices were especially divine, and with its understated sweetness, this more crunchy pastry pairs very well with coffee!
Final Grade
Flakiness: 10/10
Flavor: 8/10
Butteriness: 6/10
Lamination: 5/10
Presentation: 7.5/10
Innovative vs. Traditional: traditional, but with the fun addition of pecans
Raspberry Rose Croissant
If you're living for the floral flavor trend, this croissant is calling your name! The first thing you notice with the raspberry rose croissant is how beautiful it is. With a tortoise-shell-like complexion, a strip of sugary goodness, and an edible flower petal, it's the most photogenic croissant we've ever had!
But let's stay on topic… onto the flavor. The raspberry filling throughout reminded us of a jelly donut in croissant form, but the balance between flaky and buttery gave us the traditional texture we're always looking for. As for the rose flavor: you definitely have to like rose to enjoy this croissant, but we thought it complemented the classic flavors without overpowering them. It all depends on your preferences: our croissant critic who prefers less sweet pastries could have gone without the fondant-like strip on top, but the sweet-tooth critic wants the taste of this croissant in a candle!
Final Grade
Flakiness: 10/10
Flavor: 9/10, if you like rose flavor
Butteriness: 6.5/10
Lamination: 7/10
Presentation: 10/10
Innovative vs. Traditional: innovative
Take our word for it: Verzênay Pâtisserie's croissants are as tasty as they are beautiful! Swing by the bakery at 2507 N Lincoln Ave to take advantage of this gem in Lincoln Park!
Thank you for joining us on our third Croissant Critique! For more French food and culture, take a look at the Alliance Française de Chicago's wine & gastronomy events. We also offer a wide array of French classes, summer camps, social events, and more. Keep your eyes peeled for our next Croissant Critique. À bientôt !