Welcome to the fourth installment of the Croissant Critique! We're traveling Chicago to find the best French croissants and rate each pastry based on six different factors: flakiness, flavor, butteriness, lamination (how shiny they are), presentation (how they look), and whether they're more traditional or innovative. Today, we're taking a look at Maison Parisienne, which prides itself on its authenticity and has two locations in Lakeview! If you haven't read our previous Croissant Critiques, head over to our posts about Lost Larson, Hendrickx Bakery, and La Fournette. Allons-y !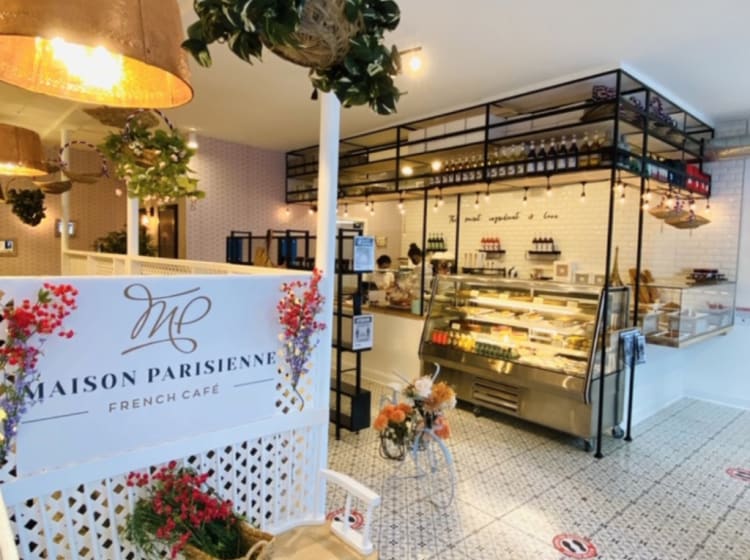 Read on to learn our thoughts on each croissant that we sampled!
Nutella Chocolate Croissant: $5
We're suckers for Nutella! This croissant is very rich and chocolatey, so it's perfect for anyone with a strong sweet tooth. Although the taste was fantastic, the Nutella on top looked just a little messy, like it was slathered on rather than gently spread; perhaps using an egg wash instead would have avoided the slight presentation issue. However, the butteriness and flakiness were perfectly balanced, so this chewy croissant would make a great dessert after a lovely brunch!
Final Grade
Flakiness: 8/10
Flavor: 8.5/10
Butteriness: 8/10
Lamination: 6/10
Presentation: 5/10
Innovative vs. Traditional: innovative
Classic Croissant: $3.75
Wow! This classic croissant blew us away. With a great flaky crunch on the outside and a moist butteriness on the inside, the texture was exactly what we were hoping for! The flavor was also superb, thanks to a slight savoriness mixed with a hint of vanilla. Maison Parisienne's classic croissant is one of the best we've tried thus far. Bravo!
Final Grade
Flakiness: 9/10
Flavor: 8/10
Butteriness: 8.5/10
Lamination: 4/10
Presentation: 6.5/10
Innovative vs. Traditional: traditional
Pain aux Raisins: $4.25
The pain aux raisins was also a home run for us; it had a great bready density, and yet was quite flaky on the outside. The pastry cream inside mixed marvelously with the light raisin flavor, too. And who doesn't love a perfectly shaped roulade? Yum!
Final Grade
Flakiness: 6.5/10
Flavor: 7.5/10
Butteriness: 7/10
Lamination: 8/10
Presentation: 7/10
Innovative vs. Traditional: traditional
Chocolate Almond Croissant: $4.50
Mixing two great flavors can be a hit or miss, but Maison Parisienne did a great job of combining almond and chocolate in this croissant. We even tasted a hint of coconut, although the baker said that there's no coconut in the recipe! (Maybe it was so good that we started hallucinating…) With a satisfying amount of flake and a light, creamy flavor, the croissant checked all the boxes for us. The almond paste on top was a nice touch, too!
Final Grade
Flakiness: 9/10
Flavor: 7.5/10
Butteriness: 8/10
Lamination: 5/10
Presentation: 6/10
Innovative vs. Traditional: innovative
We're not exaggerating when we say that Maison Parisienne's croissants are even tastier than we could have asked for! Check out their two locations (Lakeview: 3307 N Clark St) and Lincoln Park: 2564 N Clark St) for authentic French pastries in a trendy setting!
Thank you for joining us on our third Croissant Critique! For more French food and culture, take a look at the Alliance Française de Chicago's wine & gastronomy events. We also offer a wide array of French classes, summer camps, social events, and more. Keep your eyes peeled for our next Croissant Critique. À bientôt !