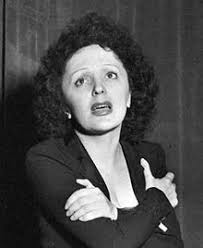 Edith Piaf. If you don't know her name, you surely know her music. Her raspy yet smooth, inviting voice has captured the hearts of millions of people over the decades and all over the world. Her life, plagued with hardship and sorrow laid the foundation for her songs that tap into the hearts of millions world-wide. Songs like La vie en rose and Je ne regrette rien capture the love, happiness and sadness that all people feel. The passion and emotion embodied by her singing have been able to reach people of all generations and all cultures. So much so, that her songs remain relevant today.
It is precisely her voice and her soul that have inspired Piaf! Le Spectacle - a musical celebration of her life and music starring Anne Carrere. Anne Carrere embodies Piaf like no other. Gil Marsalla, the director of the show was as taken with her talent as France was taken with Edith herself, "I have worked in show business- on and off stage- for 25 years and produced shows around the world, but to this day, Anne Carrere is my greatest artistic discovery yet. Do not dare touch or polish her, she is a diamond you want to keep raw- such is the nature of her pure and natural talent." It is this raw and untouched talent of Carrere that allows her to transform her body and soul into Edith Piaf, who was unapologetically uniquely organic.
Piaf! Le spectacle has already enchanted over half a million viewers in over 33 countries, and is now coming to dazzle Chicago at the Athenaeum Theather, October 8th! So, dive into the world of Edith Piaf, see how she became l'âme de France (the soul of France) and  voir la vie en rose. Alliance Francaise members enjoy a 20% discount. Buy tickets here.
Jane Eagleton